ACTIVITIES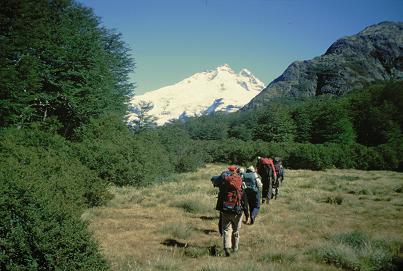 Trekking in the Andes as a one-day tour or overnight in one of the numerous mountain huts. We have a variety of trekking tours that will take you to unspoilt natural sites, crossing forests, rivers, waterfalls, and climbing mountains around 2,000 meters high, with the most beautiful panoramic views of the surrounding area.
A range of treks suited to your tastes ensures that beginners as well as those more experienced will have a lot of fun and pleaser.



Excursions on the lake Nahuel Huapi the fifth biggest lake in Argentina. Include visits to islands and beaches along the lake. For anglers we provide the necessary equipment, especially for trout fishing. /li>


HikingHiking through unspoilt forests is extremely calming, and offers you the possibility to admire the abundance of local flora and fauna, including excellent opportunities for bird watching.



Excursions to the National Park Nahuel Huapi, National Park Arrayanes, National park Lanin in the north, National Park Puelo and National park Los Alerces in the south, are combined bus rides and hikes in this very unique environment. Excursions are for one day or more. Overnight accommodation is organized in the facilities within the national parks.



Mountainbiking in the National Park Nahuel Huapi, via existing circuits, takes you to the most beautiful sights in the area.




Ranch tours: Horse riding on a typical Patagonian sheep-farm will enlighten you about the way of life on a Patagonian Estancia and the Patagonian steppes. The tour includes a famous asado (charcoal grill) meal.



Horse riding on passes and through forests of the region, alone or together with an experienced guide.



Rafting / Canyoning / Flooding in the rivers of Patagonian Andes, surrounded by breath-taking scenery, is a unique experience for every lover of these sports, for beginners as well as experts. Experienced guides with all the necessary equipment and the knowledge will make this a safe and secure experience.





Climbing over a natural wall specially reserved for climbers or on to the mountain peaks of the internationally famous climbing mountain Catedral, makes the hearts of beginners and experienced climbers beat faster.



Fishing in the many clearwater lakes and rivers of the Nationalparks around San Carlos de Bariloche with its neverending salmon is no longer a secret.



Paragliding from the mountain Otto or Cathedral, to fly where only condors dare. One can paraglide alone or in tandem with an experienced gliding coach.



Scubadiving in the clear waters of the glacier lakes. A wide variety of diving spots and fishing is a speciality of the region.



Golf on the golf course of hotel Llao Llao, which is a short stroll from Hosteria Katy. With its 18 holes and surrounded by beautiful scenery it is known to be one of the most difficult international courses.



"La Trochita" The Old Patagonian Express consists of museum-type wooden coaches and a steam engine and its tracks take you over Patagonian steppes and mountain range. Definitely a romantic journey for everyone.